If you've dreamt of a perfect snowy winter ski lodge wedding with elegant, romantic vibes, look no further than Whistler, Canada. The Winter wedding season is coming up and the mountains are soon to be coated with a white wedding cozy aesthetic that will make your day magical. We know that even in the most dreamy of wedding and elopement locations, planning your day can be stressful. Here are five things to do to make your wedding day go off without a hitch!
1. Choose A Great Local Celebrant
On your day, you want to be surrounded by friends, family and those you trust. Make sure your officiant is counted as one of those people you enjoy being with - they will be sharing one of the biggest milestones in your life with you! Your wedding or elopement celebrant should be there to support you and celebrate you while making the ceremony planning process as easy, fun and organized as possible. Choosing a local officiant within the Sea-to-Sky Corridor means they know the area, they are comfortable with your venue, other suppliers and often will have great tips that will make your wedding special in your chosen destination.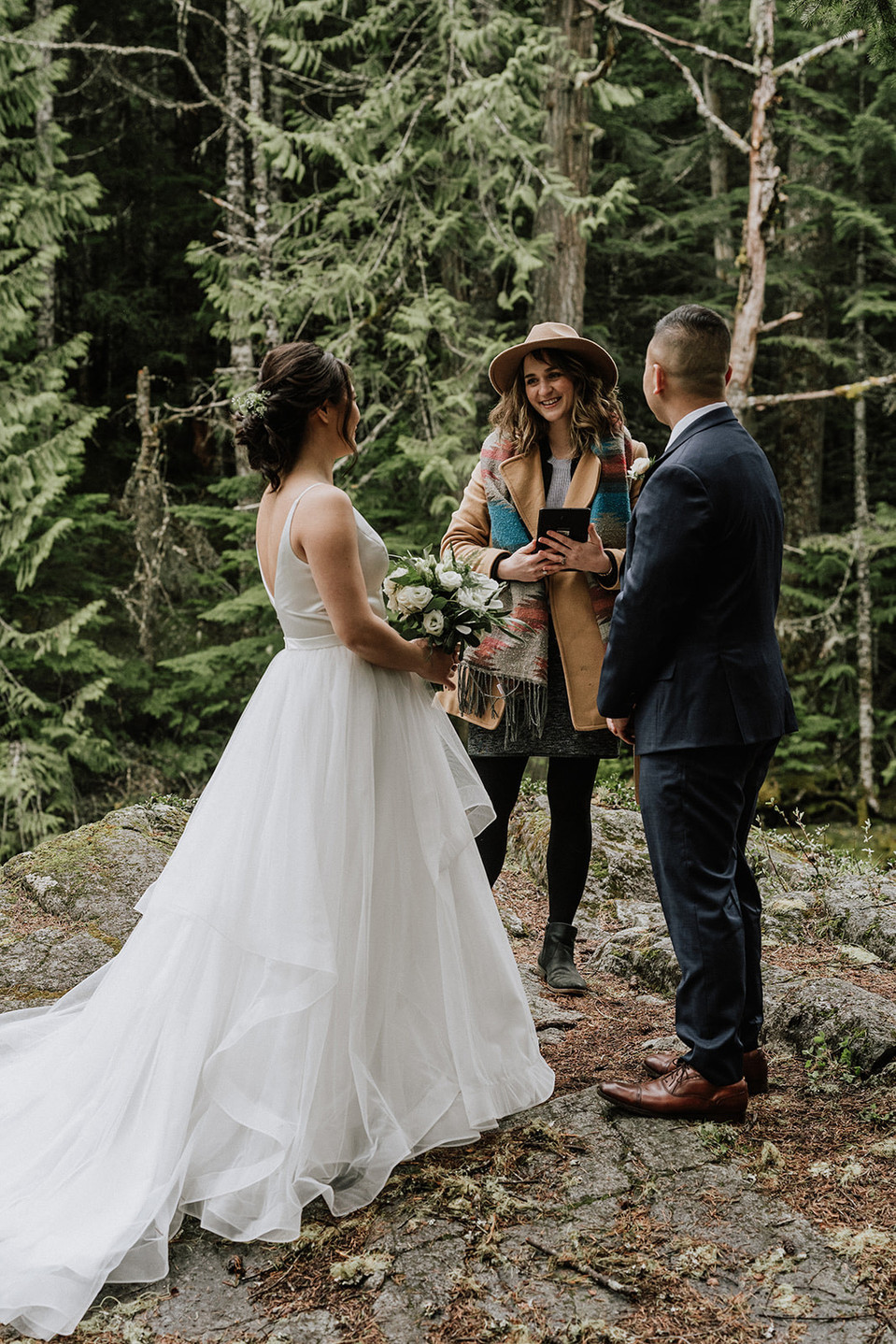 2. Keep Your Ceremony Location Close
It's winter and you want those beautiful snowy photos! Luckily, in the Sea-To-Sky (Squamish, Whistler & Pemberton) there are countless gorgeous locations coated in snow that are away from the main 'spots'. While a ceremony atop Whistler Mountain might be your first thought, there are so many hidden spots closer to your reception location that will be just as dreamy. These locations are also more intimate, and mean that your guests won't be too far from a fireplace to warm up while you're getting snowy photos. TIP - If winter wedding is your vibe, but walking your heels through the snow isn't on the top of your list - check out Squamish locations for dreamy white tipped mountains minus the snow underfoot!
3. Choose An All Inclusive Wedding Package
Does dealing with multiple wedding vendors stress you out? Picking a vendor who is able to provide you with multiple services is an easy way to reduce the back and forth communication and streamline your on the day coordination. Picking a multi-skilled vendor that can provide hair, make up, floristry and can also be your officiant will mean you are with the same person for your entire day. This reduces the stress of coordinating multiple people when you should be relaxed and enjoying your wedding. Check out our all inclusive wedding packages to take the stress off.
4. Bring Clothing Layers
A Winter wedding in Whistler is beautiful, but frostbite isn't. Don't forget to bring winter boots to put on if you plan on being outside for long periods of time. It's the perfect excuse to buy the new Sorrels or bring out the Uggs for under your dress. It never hurts to have additional layer options whether that be coats, blankets or shoulder wrap to both keep you warm and enhance that cozy winter wedding vibe.
5. Water & Winter-Proof your Hair & Makeup
A huge positive of a winter wedding is no humidity. This means that the range of hair style choices is endless! No need to worry about fallen curls throughout the day or frizziness in the middle of your ceremony. When it comes to make up, make sure you talk to your makeup artist about products to use to combat dryness and keep your makeup waterproof in case of snow or sleet. Using a full coverage foundation will help to keep the winter air from making your cheeks and nose rudolf red - and keeping your winter glow.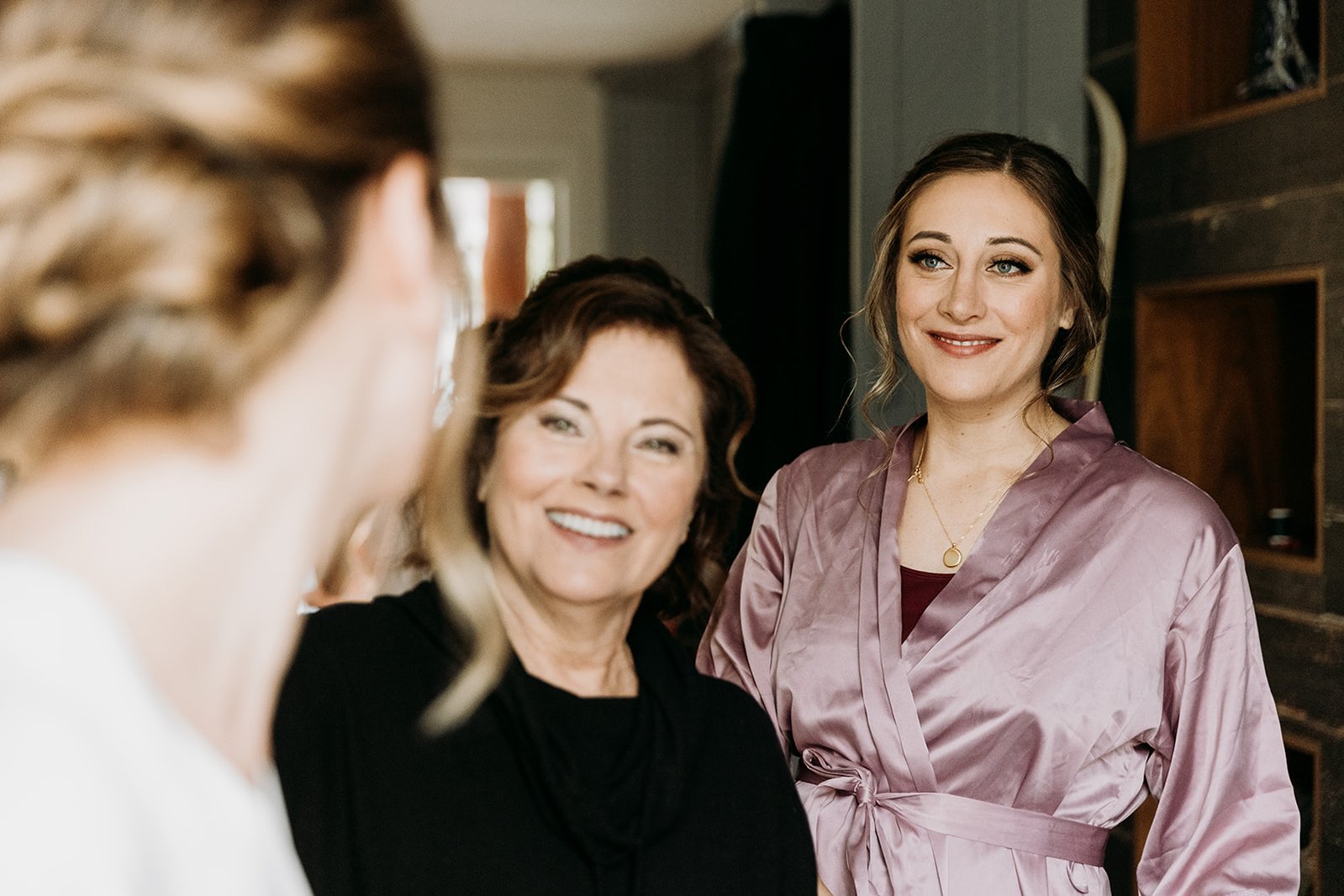 Enquire for our all inclusive wedding vendor packages for Winter weddings and elopements in Pemberton, Whistler and Squamish.